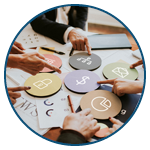 Planning
Master Plans, Asset and Property Management, Capacity Analysis, Demographic/Enrollment Study
---
Distinguished and dynamic long-term facility planning is critical to the success of a school district. Our facility planning services include long-range facilities master plans, demographic consultations, classroom and school site enrollment capacity analysis, asset advisory services, and site analysis and property acquisition services. EH&A is an expert in facility planning and helping districts participate in the State School Facility Program.
These services can be personalized to meet your district's facility planning needs to help you discover the best way forward.
Master Plans
Our Long Range Facilities Master Plans (LRFMP) are organized to provide an effective strategy for planning educational facilities that meet the changing needs of a community and governing board. The LRFMP is an asset that provides you with alternatives and options in allocating facility resources to achieve your district's goals and objectives. It's the basis for planning facility needs for either pupil enrollment growth or decline.
Asset Management
The district Asset Management Plan (AMP) fulfills your need for quality property asset management and statutory compliance data. With the AMP, you're given a comprehensive look at your district's assets. We use that information to help guide you to increased financial freedom and control, easing the burden of accounting for property management, maintenance, and statutory compliance requirements.
Capacity Analysis
The California Department of Education establishes standards for school site land size and building square footage based upon enrollment standards. These are often contingent on the significant changes in education, such as class size reduction, federal regulations, parental and community involvement, and technology. Through our capacity analysis services, our associates can determine the proper expanded use of buildings and grounds for district and community use, including the site-selection process regarding environmental, toxic, and other student and staff safety issues.
Demographic /Enrollment Studies
Our demographic research and enrollment studies are valuable tools when it comes to moving your district forward. We use proven approaches, like the Cohort Survival Projection Method, to accurately forecast school enrollment, analyze student yield compared with housing turnover, and devise new attendance boundaries. This gives you all the information you need to make important decisions, such as whether to build or close a school, change attendance boundaries, or propose a bond measure. The enrollment forecasts can also be used to plan annual budget and staffing projections.
An EH&A team comprised of Tina Cullors (Associate), Robert Kiesling (Senior Associate), and Bob Nicholson (Vice President) provided bond program management/school facility support services to Lakeside Union School District. Projects included the Tierra del Sol Middle School modernization of the multipurpose building and new gymnasium projects; Lakeside Farms Elementary School