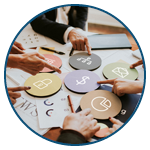 Facilities
Master Plans, Asset and Property Management, Capacity Analysis, Demographic/Enrollment Study
---
Our experienced team has worked in Facilities, Planning, Design, Project Management, and Construction across hundreds of educational organizations. We offer a wide range of services related to Facilities Development to enhance your learning environments and ease your process. Specific services such as master planning, bond program management, school consolidation, and staff augmentation are personalized to meet your needs and help you build a better future for your students and your district.
Planning
Master planning
Educational specifications
Asset management
Capacity analysis
Demographic/Enrollment studies
State agency liaison
Safety/Security analysis
Programming
Transportation plans
Architect/Contractor selection and consultant team
Project management
On-site expertise
Facilities condition assessments
Program efficiency
Public reporting
Capital improvement plans
Funding
State school facility programs
Developer fees/Negotiations
Local bond program support
Cash flow analysis & Projections
Project Management
Owner's representative
Procurement
Close-out
Staff augmentation
In part one of this multi-part series of articles, we discussed what to know and why to know about development impact fees. If you missed part one, you can find that article here. In our second part, we briefly discussed some of the history of developer fees for school facilities in California.