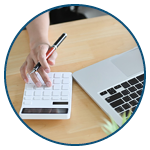 Fiscal Services
State School Facility Programs, Budget Evaluation and Analysis, Revenue Enhancements
---
Districts need to have a strong financial foundation in order to operate effectively. We provide full business and facility financial services through independent fiscal review of school district budgets, interim reports, separate fund accounts, fiscal analysis, DAIT, budget support, systemic improvement, management and organization studies, effective departmental communication, and by increasing internal capacity of all business services operations. Our recent projects include a review of adult education, associated student body funds, ongoing facility reconciliation, general fund accounting, food service fund accounting, allocations, projections, and ending balances. Your district can benefit from these facility finance services independently or collectively to help you meet your specific goals and budgets.
State School Facility Programs
We are experts in funding and helping districts participate in the CA State School Facility Program. Funding and program requirements are susceptible to modifications, such as the new regulations imposed by the 2017 Proposition 51 legislation; we keep on top of these changes so that you can continue to receive the funds your district needs.
Budget Evaluation
Our associates are skilled specifically in school budget accounting, reconciliation, and fund transfers. We can also conduct classification and compensation studies for district administrators, to help you map out and evaluate your year-to-year budgets.
Revenue Enhancements
We assist districts in the maximization of their resources including matching funds from a variety of local sources.
Developer Negotiations
We have many years of experience negotiating with land and building developers on behalf of school districts. Our associates help you reach your goals through cost-effective negotiations and partner strategies.
An EH&A team comprised of Tina Cullors (Associate), Robert Kiesling (Senior Associate), and Bob Nicholson (Vice President) provided bond program management/school facility support services to Lakeside Union School District. Projects included the Tierra del Sol Middle School modernization of the multipurpose building and new gymnasium projects; Lakeside Farms Elementary School