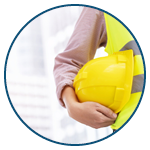 Construction
Architect and Contractor Selection, Program/Project Management, On-Site Expertise
---
Our experience in district work across several departments and projects has given our associates an incredible knowledge of the facility construction process. We offer a range of services specific to facility construction in order to take the stress off your shoulders. These specific services can be personalized to meet your facility construction needs and help you build a better future for your district.
Architect/Contractor Selection
Decades of experience has given our associates an incredible knowledge of what to look for in architects and contractors. We match your district's particular needs with the teams that will bring your facility plans to life by removing the guesswork and risk involved in the selection process.
Project Management
Construction projects are fraught with pitfalls, especially when multiple contractors are involved. EH&A's project management services give you an additional layer of support throughout the entire construction process. We are with you at the very beginning and coordinate all aspects of the project to keep things running smoothly and on-schedule.
On-site Expertise
While you're managing your district, our associates are available to provide the on-site expertise necessary for the construction project to run efficiently. EH&A stands beside you through the entire project consulting on your behalf, doing as much or as little as necessary for the project to be completed on time and on budget.
Program Efficiency
Nobody appreciates efficiency more than someone who has been on the owner's side of a project. We have become experts in anticipating and removing issues before they happen, saving you the time, money, and inevitable stress often associated with large-scale construction projects.
In part one of this multi-part series of articles, we discussed what to know and why to know about development impact fees. We discussed that development impact fees are NOT a tax but are, rather, one-time charges applied to developments. We discussed why we need these fees and for what