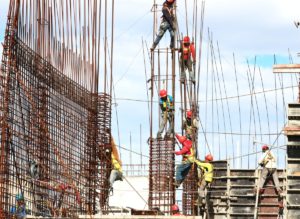 Construction needs more than half a million workers above its current pace of hiring in order to meet demand in 2022, according to an analysis released Wednesday by Associated Builders and Contractors. Predictive models from ABC indicate the industry needs 650,000 additional workers.
For every $1 billion in additional construction spending, construction gains 3,900 jobs, ABC found. As massive infrastructure spending enters the pipeline, the industry will have a lot of hardhats to fill.
"After accounting for inflation, construction spending has likely fallen over the past 12 months," Anirban Basu, chief economist for ABC, said in a release. "As outlays from the infrastructure bill increase, construction spending will expand, exacerbating the chasm between supply and demand for labor."
An estimated 1.2 million construction workers will leave for other industries in 2022, ABC found, but an anticipated 1.3 million will offset that departure — leaving other industries for construction. Nevertheless, the age of the workforce raises concerns, as fewer young workers join and stay on jobsites, and veterans of the industry retire.
The number of workers ages 25-54 dropped 8% over the last decade, while the number of older workers has increased proportionally.