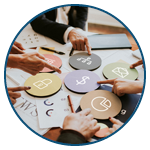 Facilities
Master Plans, Asset and Property Management, Capacity Analysis, Demographic/Enrollment Study
---
Our experienced team has worked in Facilities, Planning, Design, Project Management, and Construction across hundreds of educational organizations. We offer a wide range of services related to Facilities Development to enhance your learning environments and ease your process. Specific services such as master planning, bond program management, school consolidation, and staff augmentation are personalized to meet your needs and help you build a better future for your students and your district.
Planning
Master planning
Educational specifications
Asset management
Capacity analysis
Demographic/Enrollment studies
State agency liaison
Safety/Security analysis
Programming
Transportation plans
Architect/Contractor selection and consultant team
Project management
On-site expertise
Facilities condition assessments
Program efficiency
Public reporting
Capital improvement plans
Funding
State school facility programs
Developer fees/Negotiations
Local bond program support
Cash flow analysis & Projections
Project Management
Owner's representative
Procurement
Close-out
Staff augmentation
​​"A late-session strategy by Democrats in the California Legislature to sabotage a tax-limitation initiative may determine whether citizen groups can propose a school parcel tax requiring only a majority of voters to pass." Click Here to Read More This summary originated from a story produced by John Fensterwald for EdSource.