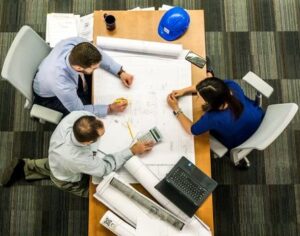 With the Russian invasion of Ukraine, U.S. contractors face a triple threat of war, inflation and supply chain snarls as they struggle to source building materials. The conflict is likely to drive fuel, copper and aluminum prices higher, while cargo ships in the area have been halted or delayed.
Russia is a major producer of aluminum and copper, which had already surged 33% and 25% respectively, year over year in January. That means prices materials forged from those metals could balloon even higher. Supply shortages, worsened by surging demand, have led to the largest annual spike of input prices to U.S. construction since 1987, when data collection began.
The attack on Ukraine and Western sanctions on Russia could prompt key materials shortages, material cost increases, demand volatility, logistics and capacity constraints, and cybersecurity breaches, according to Gartner analysts.
Construction costs for government buildings were up 13.2% year over year in January, according to the Bureau of Labor Statistics. The cost for the construction of highways and streets was up 20%, while steel mill products rocketed up 113%, and plastic construction products rose 35%.
On average, input prices for nonresidential construction surged more than 24% over the past year, according to an analysis of the U.S. Bureau of Labor Statistics' Producer Price Index by the Associated Builders and Contractors.
"It's as bad as any time during COVID," Ernst & Young's global construction and engineering practice lead Erin Roberts told Construction Dive. "You've got all this demand after a brief pause shutting down the supply chain, and it's just causing havoc."