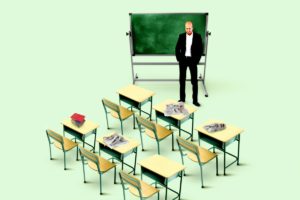 According to the National Institute for Early Education Research at Rutgers, public preschools suffered enrollment and funding declines during the pandemic, with nearly 300,000 less children in 2020-2021 than in the previous year.
The COVID-19 pandemic highlighted and intensified issues of access to high-quality early childhood education, leading to sharp declines in enrollment and state funding during the 2020-2021 school year, according to the 2021 State of Preschool Yearbook report by the National Institute for Early Education Research at the Rutgers Graduate School of Education.
According to the report, 298,000 fewer children were enrolled in state-funded preschools nationwide than a year earlier because of difficulties created by the pandemic such as health risks, closed classrooms and remote preschool. States served less than 30 percent of 4-year-olds and less than 5 percent of 3-year-olds in 2020-2021.
While most states preserved capacity during 2020-2021, allowing enrollments to rebound in the current year, most children still did not have access to publicly funded preschool programs, according to the report. Total state pre-K spending was $8.98 billion, a nearly $254 million decrease from the previous year and the sharpest decline in funding since the Great Recession.
Additionally, state spending on PK programs fell in 20-21 for the first time since 2014, according to a report from K12 Dive.