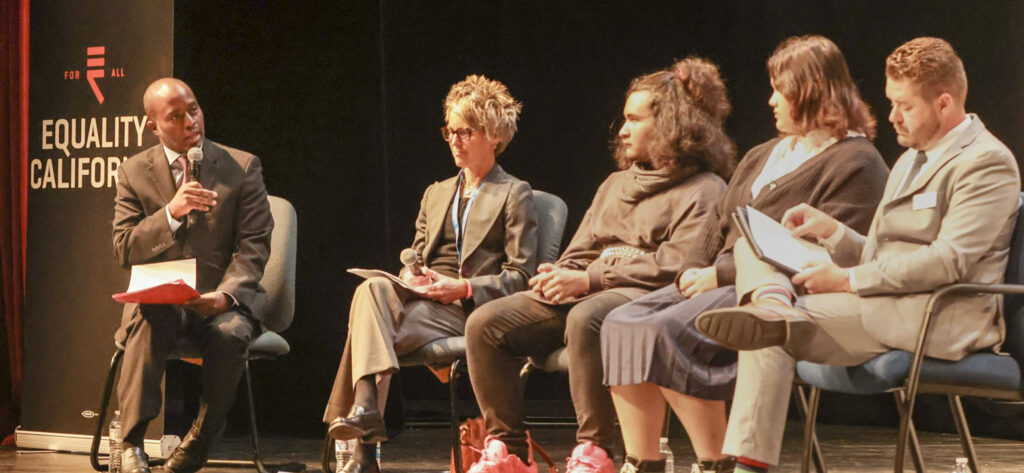 Photo from The San Diego Union-Tribune: State Superintendent Tony Thurmond speaks during a discussion on supporting LGBTQ students. (Eduardo Contreras U-T)
By Kristen Taketa, The San Diego Union-Tribune 
State schools Superintendent Tony Thurmond moderated a panel Tuesday in Oceanside Unified as the school district was honored by a civil rights group for its efforts to support LGBTQ students.
But some LGBTQ students said they still have yet to see those efforts materialize at their school and want classes that discuss LGBTQ history and more follow-up from administrators when they report bullying.
On Tuesday civil rights group Equality California released its second annual report card grading school districts' efforts to support LGBTQ students. Educators and civil rights activists say such efforts are crucial considering that many LGBTQ students face stigma and harassment for their sexual or gender identities and, as a result, worse mental health.
The group asked California's more than 340 unified school districts to respond to a survey about how they are supporting LGBTQ students; of those, about a third responded.
Based on their responses, Oceanside Unified and San Diego Unified were two of the 19 districts rated the highest by Equality California for having extensive policies and programs to create LGBTQ inclusion for students.