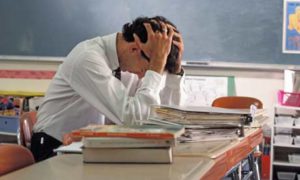 New survey shows another 1 in 4 leaders expect to 'leave soon'
More than a quarter of America's superintendents plan to leave their posts imminently — and hundreds more are unsure they want to keep balancing pandemic-era 67-hour work weeks and staffing challenges, a new RAND survey of over 350 district leaders has found.
While RAND's early look at 2021 departure rates suggests the "big quit" has yet to play out among superintendents, an emerging trend raised concern: Urban school district superintendents are leaving in higher numbers than their suburban and rural counterparts. And that churn could further damage the districts, composed predominantly of students of color who were disproportionately impacted by the pandemic.
At the same time data from ILO Group, an education strategy and policy firm, show about 37 percent of the nation's 500 largest school districts have experienced leadership turnover since the pandemic began.
"At a time when school systems and students most need steady leadership and stability, this level of turnover is likely to impact not just individual districts' pandemic recovery efforts, but our country's recovery as a whole," Dr. Julia Rafal-Baer, co-founder and managing partner of ILO Group, told The 74.
"We need all hands on deck right now to prevent a lost generation of students," Rafal-Baer added.
ILO Group's research also found the turnover in large districts exacerbated gender gaps: 70 percent of districts that have appointed permanent replacements have chosen men. And of the women superintendents who left since March 2020, 76 percent were replaced by men.