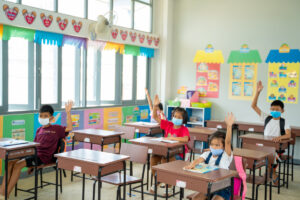 Census Day enrollment drops by 110,000 this year on top of 161,000 last year.
Dashing hopes for a rebound, K-12 enrollment has fallen sharply again this year, by an additional 110,300 students, pushing total public school enrollment in California below 6 million for the first time since 1999-2000.
The 1.8% enrollment decline, on top of the 2.6% record drop in 2020-21, is a combined loss of 271,000 students since Covid struck in spring 2020. Enrollment as of Census Day, always the first Wednesday of October, was 5.89 million students this year; five years ago, it was 6.23 million.
The decline includes charter school enrollment, which dropped for the first time year-to-year in two decades, by 12,600 – 1.8%, the same percentage as school districts.
For months, districts have known their own enrollment figures, which can vary significantly across regions and counties. The information is used to plan budgets for the next year and make long-term plans for staffing and close or open schools. New Los Angeles Superintendent Alberto Carvalho said he would analyze enrollment trends to develop a strategic plan to attract families back to LAUSD schools as part of his first 100 days plan. Other districts will likely do so, too.
For Gov. Gavin Newsom and legislators, the new numbers will add urgency to decisions on how to fund schools post-Covid. Schools are funded largely by students' average daily attendance, but drops in enrollment will affect their bottom lines and ability to meet expenses.