Last week we mentioned how important it is to make sure your K-12 facilities are ready for the back to school season – all from a preventative maintenance perspective. And while being proactive in our facilities is important, there's another benefit to keeping our school buildings in top shape: the wellbeing of our students.
 HOW K-12 FACILITIES IMPACT STUDENT HEALTH AND LEARNING
Asset longetivity, energy efficiency, and cost savings are our most immediate and measurable goals. But the benefits don't stop at the bottom line. As a facility manager, business operations professional, custodian, or building engineer, you play a critical part in ensuring student health, happiness, and high academic performance.
THE IMPORTANCE OF HEALTHY SCHOOL FACILITIES
How many of us have delayed an inspection of our buildings? Have we put off investigating the rattle coming from our AC unit? Or postponed water fountain repairs? We know that putting off preventative tasks doesn't come from negligence. Managing and maintaining buildings comes with the steady struggle of balancing competing priorities, and as K-12 facility managers it can often feel like we're stuck in a constant game of catch-up.
However, consider that one out of every six people in the US spends their day in a K12 facility. Because many of our schools were built decades ago, it only makes sense that our facilities and assets are aging and require attention. Our vigilance has a drastic effect on the lives of a large chunk of the population.
It's our responsibility as the leaders of our buildings to keep on top of our to-do lists and provide a healthy environment for staff and students. If you're looking for ways to understand and improve how your facilities impact student health, check out our roundup of information below.
VENTILATION
If you take a quick glance at your roof, chances are likely that you'll see exhaust fans and vents. While these assets may not seem as important as say, a chiller or air conditioner,  the job they perform is crucial to student learning. In a number of recent studies on K-12 facility management, poor building ventilation not only showed an increase in respiratory illnesses among students, but also a lower daily attendance rate, stalled task completion in the classroom, and even higher rates of truancy and suspension.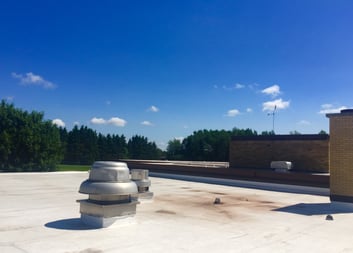 Making sure that your occupants have fresh, clean air to breathe is one of the best ways you can impact student health and performance. This is where having accurate floor plans and proper asset inventory in your facility management software can come in handy. If you haven't already, conduct inspections on your fans and vents to make sure air is free-flowing and there's no rattling of loose parts or problems with motors. It's also recommended that you walk your building to check for any musty odors, major fluctuations in temperature, or signs of radon or asbestos. All of this your asset information and work orders should be logged in your facility management software so that you have easy access to plan internal wrench time or outside contractor work.
LIGHTING
Something like lighting may seem trivial, but there's a lot more to it than meets the eye. Many classrooms prior to the 1950s depended on daylight as the primary source for light. But as electricity became cheaper and more widely available, schools built after this decade often opted for artificial light instead of windows. Proper amounts of daylight, access to rooms that don't produce a glare, and adjustable lighting for computer work have been proven to increase students' ability to focus, stay alert, and learn.
The National Clearinghouse for Educational Facilities, an organization that works to share information and best practices on maintaining school facilities, provides a guide on lighting best practices for many different room types – from offices to classrooms to gyms to libraries. As you analyze your current lighting versus how you can implement change through things like proper wattage or skylights, make sure that all of your floor plan data is accurate and organized and loaded into your facility management software to make any lighting modifications easy to plan for.
5 Steps to Creating Accurate Floor Plans
CLEANLINESS
Did you know that in a recent study published by APPA states that the fourth most important factor to impact student health and learning in facilities (behind noise, air temperature, and lighting) is cleanliness? While staff and students can contribute to the daily cleanliness of our facilities by practicing hygienic habits, remember that controlling things like allergens, pests, and irritants are often out of their control.
School janitorial teams are integral to keeping our buildings in top-notch shape. This includes making sure that each and every corner of our buildings get attention – from the interior to the exterior and foundation to roofing. As budget and staff cuts create tighter schedules, it's essential to operate as efficiently as possible with what we have. Consider ways to combat the cuts by creating streamlined custodial cleaning plans or implementing a streamlined work order system integrated with your facility management software.
At AkitaBox, we tip our hats to all of the building and operations teams that dedicate their days to supplying healthy, happy facilities. Your work doesn't go unnoticed. If you're looking for more ways to be proactive and want to learn about how we can help, reach out to our Facility Innovation team. We'd love to help you get started.